Pool School is Coming!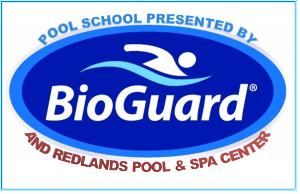 POOL SCHOOL 2017 – Thursday May 11th from 7 – 9:00 p.m.
It's back, by popular demand!  Geared toward both new pool owners as well as veterans,  Pool School 2017 at Redlands Pool & Spa Center will provide a crash course in maintaining pool water balance, which is the secret to a beautiful and inviting pool.  An evening Pool School with Water-care Expert Dwayne May from BioGuard is scheduled for Thursday May 11, 2016 from 7 – 9:00 p.m.  All are welcome to this Free event.
Covering both Traditional & Salt Water Pools, Dwayne will explain what to do (and when to do it) to get and maintain sparkling, crystal clear water in the easiest way possible.  Special discounts and promotions on BioGuard specialty Pool & Spa Chemicals will be available after the presentation.  Space is limited, so Email us at:
JoshuaM@Redlandspool.com
 to CONFIRM a spot.   Those who RSVP AND attend will receive a FREE GIFT.  If you are a pool owner, this is an event you won't want to miss!