Employment
Redlands Pool & Spa Center – A Team That Works!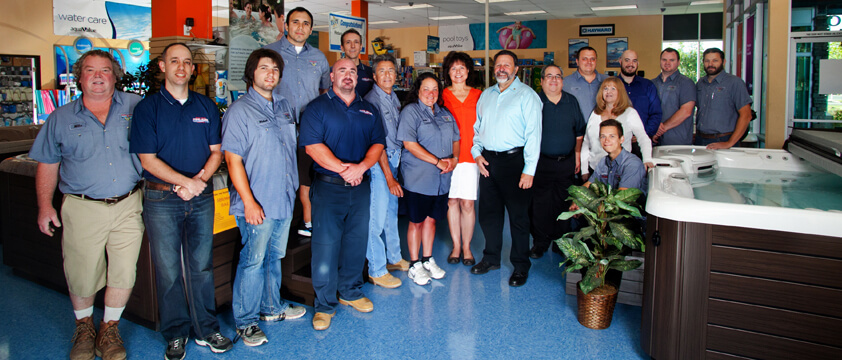 Join our Team
We believe in teamwork and in people helping people — our customers and our employees. We are always looking for men and women who want to excel in whatever they do and are motivated to learn. For us, it's all about attitude!  Check below for current employment opportunities at Redlands Pool & Spa Center.
We offer competitive pay, on-the-job training as well as educational opportunities in the off-season, excellent benefits for full timers, and room to grow within our company.
Current Employment Opportunities for the positions of:
Pool & Spa Repair Technician with 5+ years of experience repairing brand name pool pumps, filters, heaters, lights, controllers, etc.  If interested and qualified please introduce yourself by CLICKING HERE
Pool Cleaning Technician – We are looking for a hard working, honest, dependable individual to clean pools and spas weekly, even in extreme weather conditions (think 110 degrees in August and 40 degrees in January).  Experience not required, will train.  Must have reliable transportation to and from work, be able to lift 50 lbs and be willing to submit to criminal background check and drug testing.  To begin the application process, CLICK HERE.
Repair Scheduler/Repair Billing Administrator – Knowledge of the pool/spa industry helpful.  Must be dependable, detail oriented, able to multi-task, possess good math and computer skills, be friendly and personable on the phone and in person, a team player.  We perform criminal background checks and drug testing on applicants under serious consideration.  Experience in scheduling and billing required.  If interested and qualified, please email your resume to us at: Sharon@redlandspool.com
We accept applications for all positions at any time.  If we are not hiring for a particular position we do keep applications on file for a period of time and review them when a position becomes available.  To find out more about other positions within our company and begin the application process, CLICK HERE.
We look forward to meeting you!