MultiCyclone Centrifugal Filter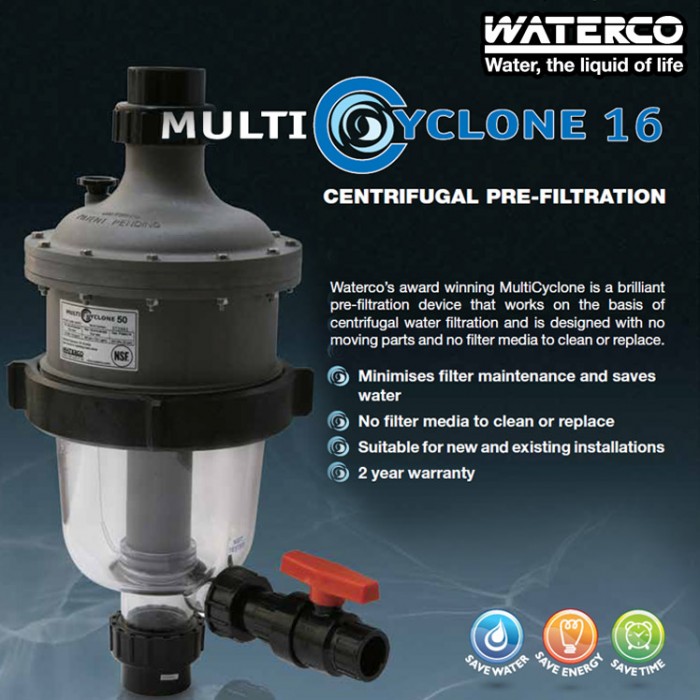 WANT TO CLEAN YOUR FILTER LESS OFTEN?
MULTICYCLONE CENTRIFUGAL FILTER
The MultiCycone Centrifugal Filter by Waterco has an award winning, revolutionary design that greatly reduces filter backwashing and maintenance by capturing particles before they reach the pool filter. Easily installed on any cartridge or sand filtration system—ideal as a pre-filter to extend the life of your existing filter.
The MultiCyclone works on the basis of centrifugal water filtration. There are no moving parts to wear out and no filter media to clean. Reduces backwash frequency and extends media life for sand filters. Reduces maintenance and extends the life of cartridges in cartridge filters. UV-resistant and corrosion-proof.
The MultiCyclone:
Improves pool water circulation and pool filter efficiency, so you have a clearer pool.
Enhances the performance of automatic pool cleaners and in floor cleaning systems.
Allows effective pool vacuuming without burdening the pool filter.
Can reduce filter cartridge cleaning and replacement to once per year, depending on the size of the cartridge filter. This saves time and money!
Can reduce sand filter backwash frequency to once per year, saving time and up to 7,000 litres of water per year for an average home swimming pool.
The MultiCyclone is easily cleaned by simply opening its purge valve.
Available in multiple sizes for residential and commercial applications.
Come into our store and find out more about this amazing product from Waterco that will save you time and money!